Discoveries and Surveys in New Guinea Captain John Moresby – First Edition 1876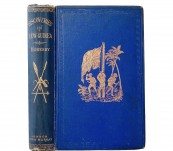 Short Description
Title continues … and the d'Entrecasteaux Islands: A Cruise in Polynesia and Visits to the Pearl-Shell Stations in Torres Straits of H.M.S. Basilisk.
First Edition published by Murray London 1876. Large octavo, 327 pages after preliminaries, nice original gilt decorated blue cloth covered boards. Three maps and four plates. Professionally repaired tear to large folding map.
The historic record of John Moresby's explorations and discoveries in New Guinea including the finding of Port Moresby (named after his Admiral father) and the magnificent harbour there.
Also the mapping of the coastline between Heath Island and the Huon Gulf, all completed during the visit of H.M.S. Baslilsk in 1873. A safe passage was found through the Louisiade Reefs to the East of New Guinea and some 140 islands were placed on the chart as a result of his endeavours.
New Guinea cornerstone book – Moresby First Edition

Updating...