Diary of Death – Wilson Collinson – First edition 1932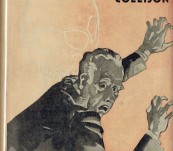 Short Description
A first edition published by Tudor, New York in 1932. Octavo, 245. Very good condition with a super period dust jacket.
An intimate diary and many lovers at the heart of the murder of beautiful Laura Carlin.
Wilson Collinson was quite a character. Also a successful playwright, his Red Dust was made into a movie starring Clarke Gabel. He penned some unusual titles … Expensive Women and Getting Gertie's Garter are examples.
Tape your fingernails!

Updating...