Contested Places – Tasmania's Northern Districts from Ancient Times to 1900 – Shayne Breen – Signed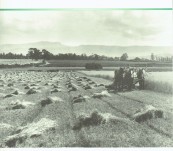 Short Description
A scarce book published in 2001, in limited numbers, by the University of Tasmania the author completed a Doctorate on which this work is based. Regarded as an innovative piece of historical research. Signed by the author.
Octavo, soft cover, perfect bound, 226 pages, illustrated, a fine copy.
Tasmania's Northern Districts comprises the municipalities Deloraine, Westbury, Evandale and Longford a large agricultural area.
Contested Places refers to the competing groups in the region up to 1900. Starting with the dispossession of the Aboriginal people. Then the conflicts between large landholders and landless labourers and tenant farmers. Specific issues relating to the eradication of pests are dealt with as well as the harder to grasp philosophy of social law and interactions between colonial society and the bush.
A solid scholarly work for those interested in social contest and the impact of people in the natural environment in Tasmania.

Updating...