Captain Louis de Freycinet and His Voyages to the Terres Australes.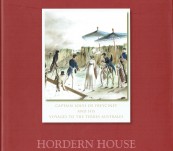 Short Description
Published by Hordern House in 2010, what can we say, another scholarly catalogue of key works presented perfectly..
Hardback quarto, in dust jacket, unpaginated but circa 180 pages describing 92 sumptuous and rare items. A very good copy.
After the normal useful House introduction we have the voyage of the Geographe and the Naturaliste under Nicolas Baudin (1800-1804) … Baudin and Flinders the official narratives, the voyage its people etc, Freycinet's Australian cartography and the images of Petit. The the voyage of the Uranie under Louis de Freycinet (1817-1820) … Freycinet and King the official narratives … preparations and the voyage, images etc Good appendices provide additional content and support. Original list of eye watering prices.
Freycinet a complete collection of history and beauty
SUPER BOOK - SO SORRY SOLD

Updating...