Bold Man of the Sea [Rowed Across the Pacific] – Jim Shekhdar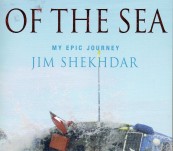 Short Description
The title and understatement. Here we have the guy who rowed across the Pacific. He had previously rowed the Atlantic …
Published by Hodder in 2002 a first softcover. 255 pages great condition.
...with lots of great photographs taken along the way … none better than Jim wading ashore at Stradbroke Island near Brisbane, Queensland. More than 10,000 miles from Peru [having being denied departure authority from Chile]. A lot of near misses including shark attacks and broken oars along the way.
One tough guy … how far would you get?

Updating...