Blake Twigden Bookplate – the Owl and the Possum – Ex Libris Pat Corrigan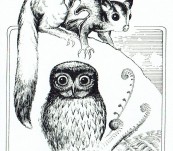 Short Description
A thoughtful bookplate design by Blake Twigden produced in 1973 using offset lithography with black ink.
Very clean condition, 11cm by 9cm
Blake Twigden was born in New Zealand in 1945 and spent over twenty years of his adult life in Australia. He is a passionate conservationist and specialises in painting natural history subjects, particularly exotic birds. He returned to New Zealand and as well as his art runs a private wildlife sanctuary.
Pat Corrigan having done more to re-stimulate the art of bookplate design in Australia than any other person. The Wiki article on Pat Corrigan is excellent and has an interesting section on his promotion of bookplates.
Blake Twigden – Wildlife Artist – Commissioned by Corrigan

Updating...