Atomic Energy for Military Purposes – Henry Smyth – First Edition 1945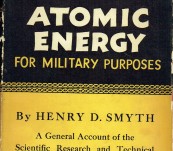 Short Description
Full text of the Official Report … subtitled A General Account of the Scientific Research and Technical Development That Went into the Making of Atomic Bombs.
Not everyone's cup of tea. For scientists particularly physicists and physical chemists a startlingly frank book about the Manhattan Project and what went on about, and into the making of, the first atomic weapon.
Published by the Princeton University Press but effectively a reproduction of the Official Report with an added Preface. Octavo, 264 pages, with photographs of the individual, facilities and the first boom. A good copy, dust jacket well chipped and repaired now protected in Brodart.
The back history is well laid out, the fundamental science and the challenges. The simplicity of "critical mass" has always amazed Voyager. But it was the speed that CM is attained that was the key before all sorts of other leakages could take place in that extended micro-second. Typical of what can be achieved during wartime. The management (laboratory) structure … the heads of each all famous scientists. Voyager hero, British Nobel Prize Winner, James "Neutron" Chadwick spent three year there and is recognised here as making a fundamental contribution.
Oppenheimer is the first name that comes to most. His organisational ability could not be questioned. The speed at which the first device was manufactured after the science was decided upon is nothing more than remarkable. On the night of the first test they were delayed by a significant lightening storm … Oppenheimer went out into the darkness and at the first sight of stars declared the experiment on …
The First Atomic Bomb – the whole official story – like it or not … it makes interesting scientific and historical reading.
SO SORRY SOLD

Updating...