Atlas of Columbus and The Great Discoveries – Kenneth Nebenzahl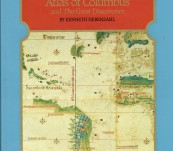 Short Description
A first printing 1990 of Kenneth Nebenzahl's striking work on early maps. Despite the title much more than New World focused
Published by Rand McNally and probably one of their best works. Folio, 168 pages, extensively illustrated in colour. A fine copy in a complete and pristine dust jacket. Heavy and will be difficult to send Overseas.
Nebenzahl, Fellow of the Royal Geographical Society and Trustee of the Newberry Library , Chicago … a map lovers heaven. Recipient of the "Tooley" award of the International map Collectors Society.
With the backbone of Columbus the book is set out in four parts. Part I – The Geographic Tradition inherited by Columbus; Part II – Columbus and His Contemporaries Change the Map; Part II – Filling in the Features of the Earth and Part IV Europe's Colonial Era Begins. We must say the only rather dull thing about this book is the "Part Headings". It is not al all dull and contains many beautiful cartographic curiosities not found in other books of aligned topic.
Special cartographic work with super examples and illustrations.
SO SORRY SOLD

Updating...