An Anzac Muster [Tales of Gallipoli] – William Baylebridge – Collected Works Vol II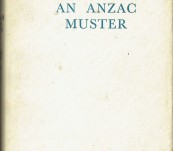 Short Description
This is Volume II of the Collected Works of William Baylebridge (Memorial Edition) published in 1962. The Memorial publications were released at different times hence they are often found in separate volumes. This volume stands alone.
The Anzac Muster was first printed privately in an edition of only 100 copies. It is regarded as an outstanding contribution to Australian literature. This publicly available volume represents the very next printing and contains the authors revisions which were made in 1932. These revisions never made the printing press and Baylebridge died in 1942.
Published by Angus and Robertson, octavo, 226, with colour portrait frontispiece and a facsimile of the authors hand written amendments at the rear. A very good copy in a like dust jacket a trifle marked.
Tales from Gallipoli from by Baylebridge – revised and revisited.

Updating...