Aerial, Geological and Geophysical Survey of Northern Australia – Period Ended 31st December 1936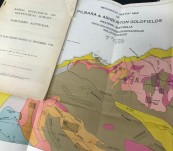 Short Description
A comprehensive report on all undertakings in 1936 covering all regions in Northern Australia … Western Australia, the Territory and Queensland. Published by the Commonwealth Government, Canberra in 1937 – 830 copies produced at the time.
Folio, 91 pages with 12 large coloured charts at the rear .. some on a massive scaled. All staple bound as issued. Repaired tear to front cover otherwise a near perfect copy, the charts almost as new and the colours very vivid … printed on high grade paper compared with the narrative which is on the usual fragile government stock.
There so much to describe regarding the content that any attempt to precis is rather daunting. The descriptions of the plates gives a good idea of coverage.
Plate 1 Geological Sketch Map of the Pilbara District, Western Australia; Plate 2 – ditto Kimberley, WA; Plate 3 ditto Daly River District, Northern Territory; Plate 4 ditto Cloncurry District, Queensland; Plate 5 ditto Croydon Gold-fields, Queensland; Plate 6 Tennant Creek – Peko Area, Northern Territory; Plate 7 – Tennant Creek, Magnetic Survey, Profiles and Drilling Results; Plate 8 Croydon Geophysical Survey; Plate 9 Dugald River, Queensland; Plate 10 Brock's Creek, Northern Territory; Plate 11 Portland Roads, Queensland; Plate 12 Miscellaneous Profiles.
Magnificent geological report in terms of its detail and raft of quality coloured geological maps.

Updating...