A Voyage in the Sunbeam – Lady Brassey – 1894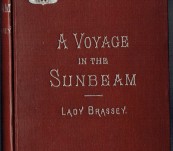 Short Description
Published by Longmans London 1894., an early edition of Lady Brassey's popular voyage account.
A Voyage in the Sunbeam – Our home on the Ocean for Eleven Months. Thick octavo, 492 pages, plus extensive publisher's catalogue. With 66 illustrations engraved on wood by G Pearson from drawings by the Hon A.Y. Bingham.
Described as a "new edition" in a popular form. The voyage from England takes in Madeira, Teneriffe, Cape de Verde and across to Rio. The River Plate and … life in the Pampas. Round the Horn to Chili and Santiago and Valparaiso and off west to the South Sea Islands, and Tahiti, Hawaii, and across to Yokohama. Canton and the Pearl River, Singapore, Ceylon and then to Aden the Suez and home. Not quite as easy or as blunt as that!
A superb account of the circumnavigation of the Sunbeam in 1876/7 the first of the Sunbeam voyages.
Affordable Sunbeam – Lady Brassey - a Travel Classic

Updating...