A Night to Remember [the Sinking of the Titanic] – Walter Lord – First UK edition 1956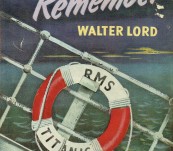 Short Description
First UK edition of this classic Titanic book published by Longmans, Green etc London in 1956. Still regarded as the best account of the Titanic disaster and the basis of the Classic Movie of 1958 starring Kenneth Moore.
Octavo, 187pages, numerous illustrations from period photographs and end paper diagrams of the fated ship. Jacket art by Ley Kenyon.
The author was in the American Intelligence Service during WWII, was an obsessive collector of uniform buttons from the American Civil War and spent twenty years researching for this book … not all the time of course.
A really special book that Voyager has read through twice without a pause. The photographic images are super …menus First and second Class; Lord Astor looking, well, aristocratic; the Gymnasium; the Café Parisien … the lifeboat that the Countess of Rothes was later to "man" the tiller.
Titanic Gold – UK First Edition 1956

Updating...