A.E. Nordenskiold Facsimile-Atlas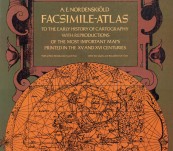 Short Description
A facsimile of the original Atlas published first in English in Stockholm in 1889. Translated then from Swedish by Johan Ekelof and the great Clements Markham
The original author an adventurer and explorer was part of the great Nordenskiold family with the discovery of the North-west passage and new area of the Antarctic among their conquests.
This facsimile is large folio (40cm by 28cm), soft cover, published by Dover, New York in 1973. 141 pages plus 51 pages of mainly double page map reproductions. Very good condition.
A unique item concentrating on the mots important maps of the 15th and 16th Century.
Dealing with the geographical Atlas of Ptolemy; Pseudo Ptolemy editions; other Ancient maps; the first maps of the New world and newly discovered parts of Africa and Asia; Terrestrial Globes … the transition to the modern period … Jacopo Gastaldi, Philip Apianus, Abraham Ortelius, Mercator.
Special Cartographic work by Nordenskiold – Special Detail.

Updating...