A Cursory Sketch of the State of the Naval, Military and Civil Establishments, Legislative, Judicial, and Domestic Economy of This Kingdom, During the Fourteenth Century. – Bree John – Published London, 1791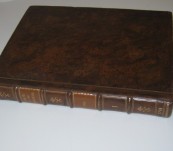 Short Description
Published in London in 1791 with a particular account of the campaign of King Edward the Third, in Normandy and France, in the years 1345 and 1346, to the taking of Calais: collected merely from the ancient manuscripts in the British Museum, and elsewhere. Volume I, all that was published. First Edition, printed for the author, and sold by J. Debrett (and others), 1791, quarto, pages xxxvi, 381 (i.e. 386), (30) – index and errata, pages 385 and 386 misnumbered 335 and 381.
Bound in full antique tree calf, raised bands and gilt decoration to spine, gilt lettered leather labels. Contents bright and clean, binding tight and firm, a very good copy.
This was projected to be a series of volumes but only the first was published. There are 2 chapters both concerning the Navy: 1) Of the General State of the Navy of England during the Fourteenth Century; and more particularly of the naval armament collected by King Edward the Third for his expedition against Normandy and France: and first of the appointment and succession of the Lord Admirals of England; 2) Of the Size, Tonnage, and Construction of the Ships; their Complement of Men, Victualling, the Number of Officers, their Pay, and that of the Mariners and Soldiers, on board the Navy of England, during the Fourteenth Century.
A most interesting historical record in very good condition in a quality tree calf binding.

Updating...