The Dead Heart of Australia. A Journey around Lake Eyre in the Summer of 1901-1902 with Some Account of the Lake Eyre Basin and the Flowing Wells of Central Australia – J.W. Gregory – First Edition 1906.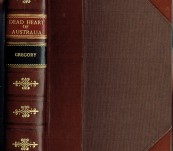 Short Description
First edition published by John Murray, London in 1906. Thick octavo, xvi, 384 pages with 6 figures and 22 pages of plates, 4 smaller folding maps and 2 large folding maps at the rear. Beautifully bound by Roger Perry.
The large folding maps are super … "A Sketch Map of Eastern Australia Showing the Central Artesian Basin" and "Sketch Map of Lake Eyre Basin".
John Walter Gregory (1864-1932) was a leading geologist explorer of the late Victorian and early 20thC period. He spent time in Australia between 1899 and 1904 in the new Chair for Geology ay Melbourne University. Unfortunately the University was so short of cash at the time Gregory did not have the advantage of a geological laboratory. Regardless, he spent his time wisely and this book the record of his explorations in the Dead Heart is regarded as a classic.
Gregory made a number of important discoveries on this expedition not the least being the discovery of fossil remains of the Diprotodon. He had heard the legend of the bones from the Diesi tribe and followed the lead with amazing success. The Diprotodon was a giant marsupial [the biggest found so far] somewhat like a wombat but the size of a hippopotamus.
To put Gregory in perspective … before Australia he conducted explorations in East Africa and was the first to seriously attempt to climb Mount Kenya. A part of the Great Rift Valley is named after him . He also went to Spitzbergen with Martin Conway and was part of the planning team for the Antarctic Discovery team resigning over an issue with Scott. Quite a man and quite a life.
The end came on expedition to South America to explore and study volcanoes in the Andes. His canoe overturned in the Urubamba River and he was drowned
John Gregory active explorer and geologist out and about in the Dead Heart.

Updating...